Waterjet Cutting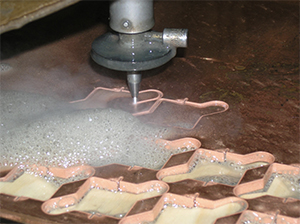 Water-jet cutting
Sharples offers large cutting areas. We can cut blanks for finish machining or finished parts from materials such as stainless steel, copper, steel, aluminum, granite, or glass. Nonabrasive water-jet cutting is available for cutting rubber, foam, and gaskets. Other services include quick quotes, quality inspection, and advanced nesting.
Abrasive water-jet cutting
In the process of abrasive water-jet cutting, Sharples can cut with a no heat-affected zone. By mixing garnet into an extremely high pressure water stream up to 60,000 psi, abrasive water-jet cutting can provide a clean cut in material up to 6 inches thick. Sharples can cut aluminum, steel, and stainless steel, among other materials, by abrasive water jet for both customer tooling and part manufacturing process. We can also produce different finished edges, from rough striated edge to striation free.  
· No heat process
· Material up to 6 inches thick
· Large work area for best yield  
Nonabrasive water-jet cutting
Our abrasive-free, water-jet cutting services are available for different materials, including rubber, foam, and gaskets. Through this application, we service major industries such as aerospace, packaging design, displays, automotive, electronic/gasket industry, and sound proofing.
· Large work areas
· Savings on tooling charges
· Intricate and small parts